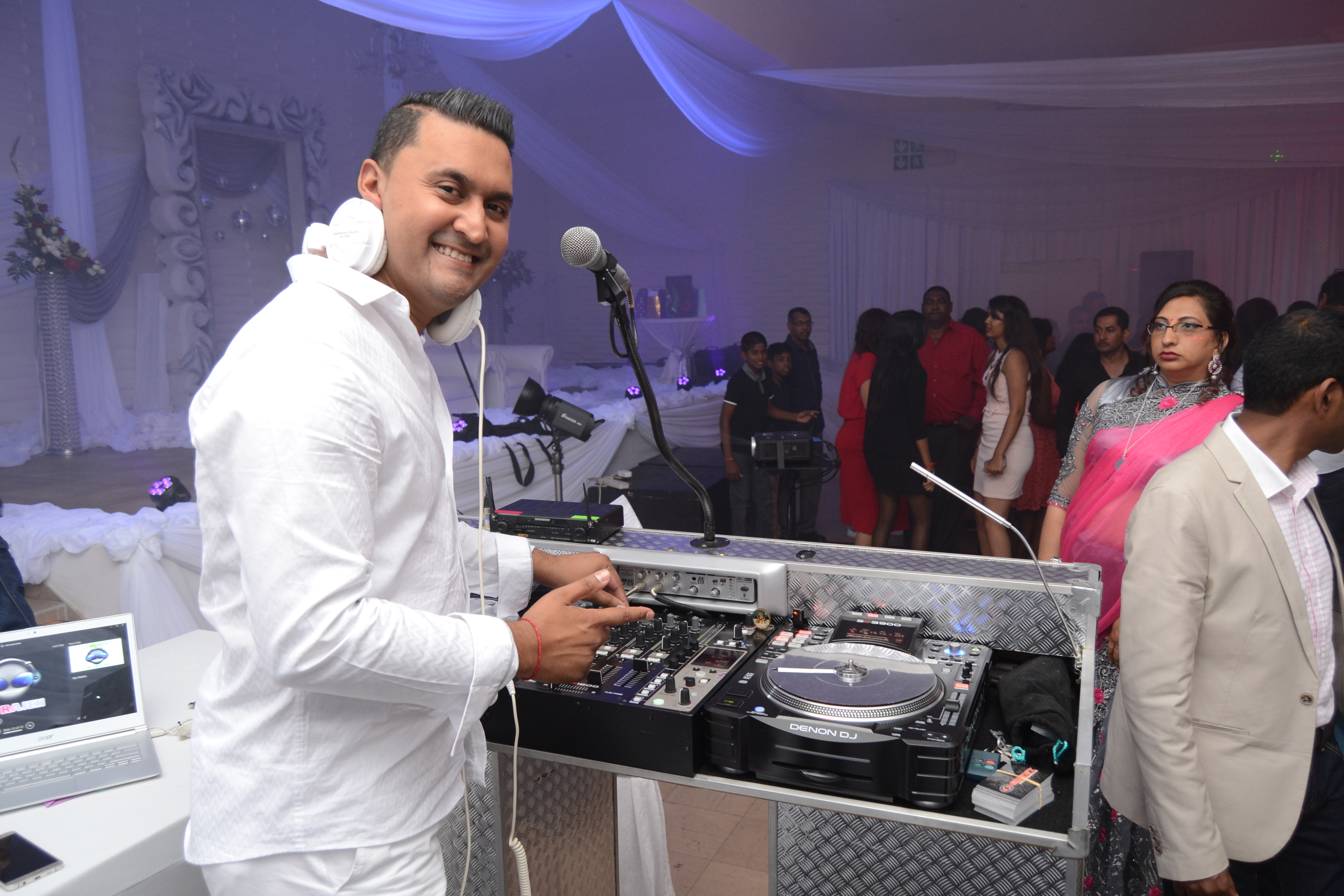 ABOUT US...

DISCO GRAVITY MOBILE DISCO established in 1995, has been successfully entertaining for the past 20 years. We pride ourselves in our professionalism and state of the art Sound & lighting & in our invaluable wealth of knowledge, expertise and experience that has been gained over many years in the mobile disco industry that gives us an underlying strength and reliability that really sets us apart from all our major competitors.
We are the Lamborghini of mobile disco services with the best dj�s driving our mobile disco for your wedding parties, corporate events, birthday parties, wedding eve bhangra parties, year end functions. Our formula one team of advanced mobile disco Dj�s are well able to deal with any weather challenges of obstacles. We are a SAMRO approved mobile disco (south Africa music rights organisation), with a legacy of cheering fans and loyal supportors. So for your next function leave your function in the hands of a professional mobile disco.
DJ RAJEN comments...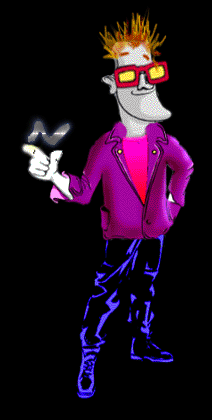 I think in some ways i am a perfectionist because i like things to be exactly right. I always want to make every party more than a success.. even though i am hard on myself, i do find being a dj very uplifting for me because i enjoy people and love music. I really believe i am blessed because reading the crowd has become so effortless for me these days. I play for all kinds of functions, weddings, bhangra parties, birthday parties, corporate event, school debs ball, ceremonies, etc. I love what i do and that makes a difference. I�m an active dj in my business because music is my passion. My music selection ranges from the 60's, 70's, 80's, 90's, 2000, bhangra, chutney, jazz,hip-hop, r&b, house, deephouse, funky house, quaito, local music. It all boils down to reading the crowd and making that party an occasion to remember.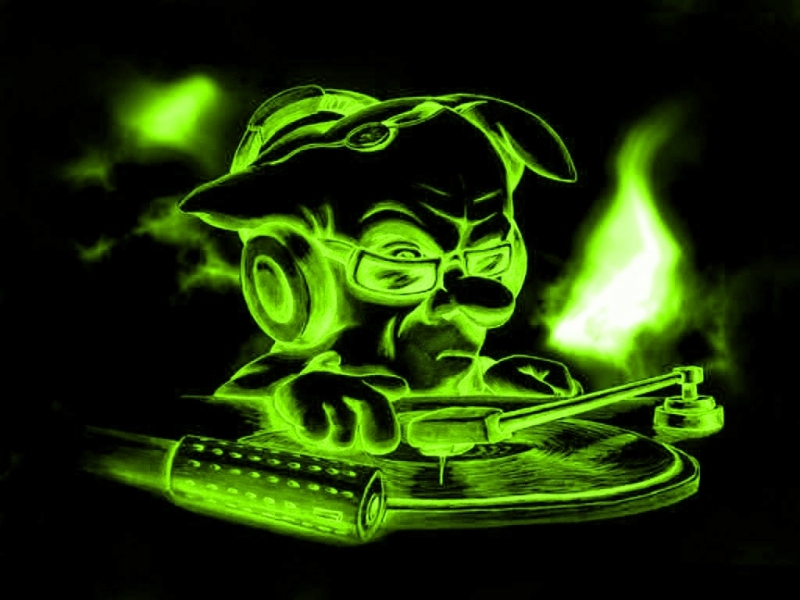 How did DISCO GRAVITY become a market leader
DISCO GRAVITY has earned a reputation of excellence for delivering the highest standards of quality services to the mobile disco industry. The fruits of our business are the result of securing solid foundations based on positive recommendations by word of mouth advertising that has made our name into the market leader it is today .
While competitors are learning, we are focussed on leading the way of setting the standards to the industry, offering our clients better opportunity of selecting reputation over chance, any time.
DISCO GRAVITY MOBILE DISCO specialises exclusively in music, sound & lighting, projector screen hire, Stage platform hire, Colour wash of stage/venue. So we offer our clients the very best choice of options for their functions from exclusive mobile disco packages, laser lighting, bubble machine, snow machine, smoke machine, moving head led lighting, projector & screen slide shows, etc.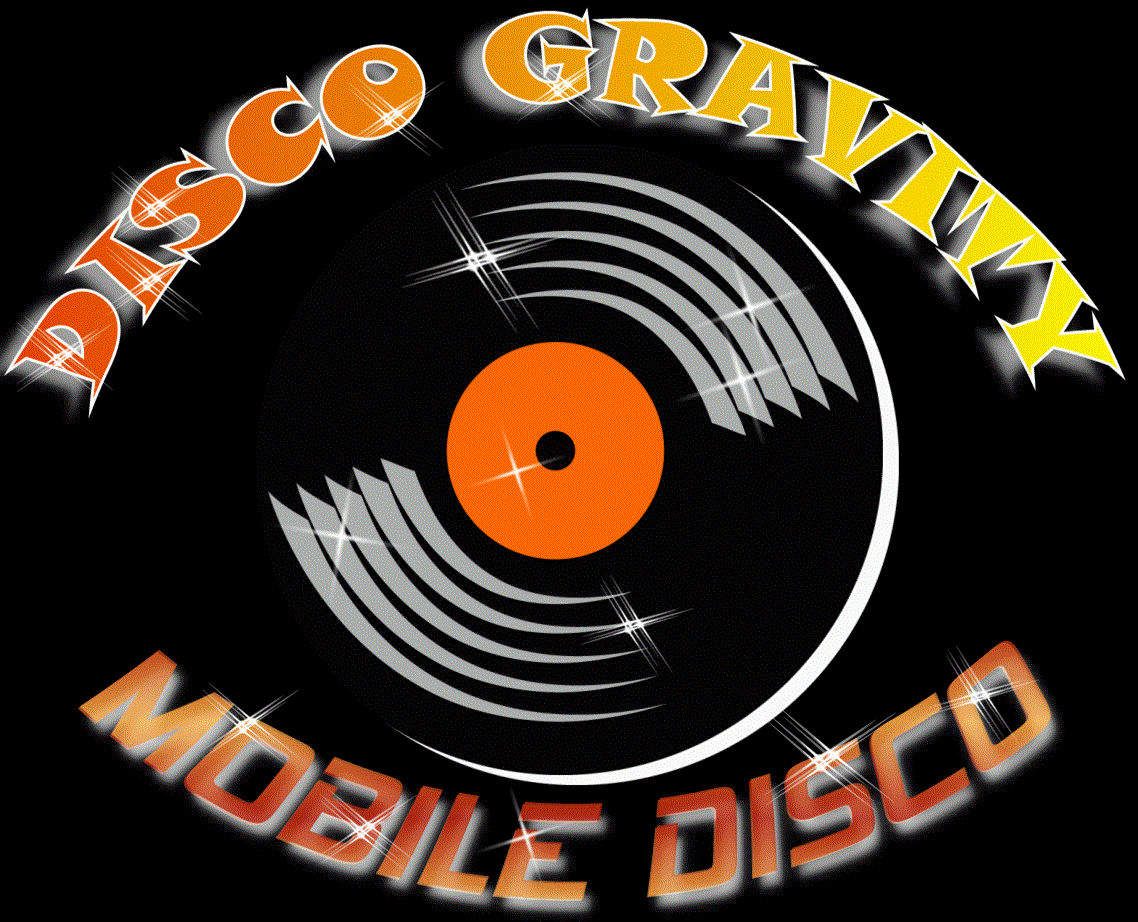 GRAVITY DJs are bound by the strict code of ethics:
1. NO Alcohol: DJs are strictly prohibited from consuming alcohol at functions.
2. Punctuality: DJs are on time - every time.
3. Etiquette: DJs are well mannered and trained on basic etiquette.
4. Dress Code: DJs are well groomed.
PROJECTOR SCREEN HIRE - DISCO GRAVITY
Projector and Projectors Screen packages for hire
*a wide range of single and dual projectors and screens for hire together with Disco Gravity Dj Rajen 0837252146
STAGE / PLATFORM STRUCTURE FOR INDOOR OUTDOOR EVENTS FOR HIRE DURBAN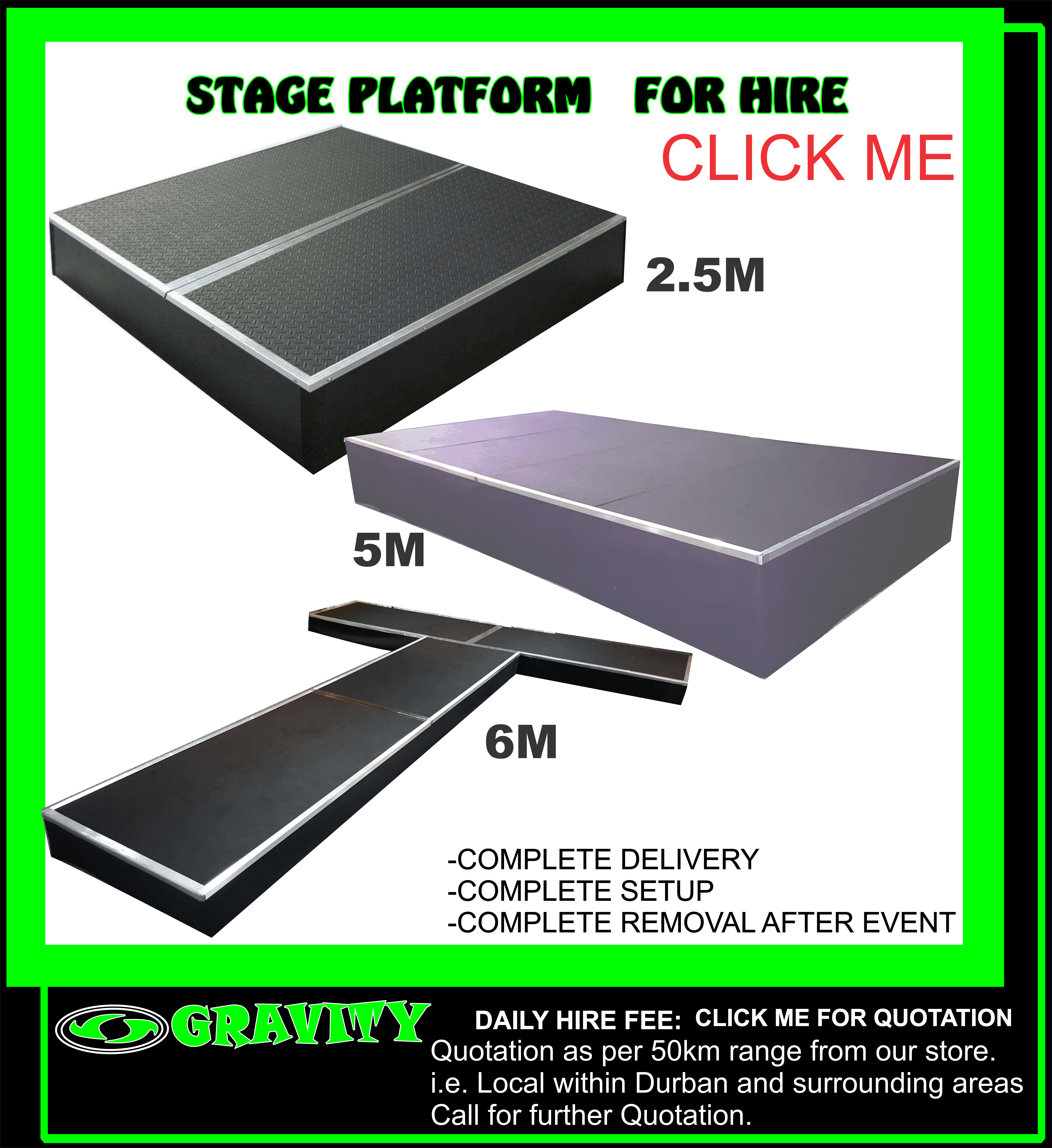 CLICK ME FOR A QUOTATION ON STAGE HIRE
STAGE PLATFORM HIRE FOR ALL OCCASSIONS
-2.5M STAGES FOR HIRE
-5M STAGES FOR HIRE
-6M RUNWAY STAGES FOR HIRE
AVAILABLE IN 2 DIFFERENTS HEIGHTS:
*300mm HIGH
*600mm HIGH
COLOUR WASH STAGE / FUNCTION VENUE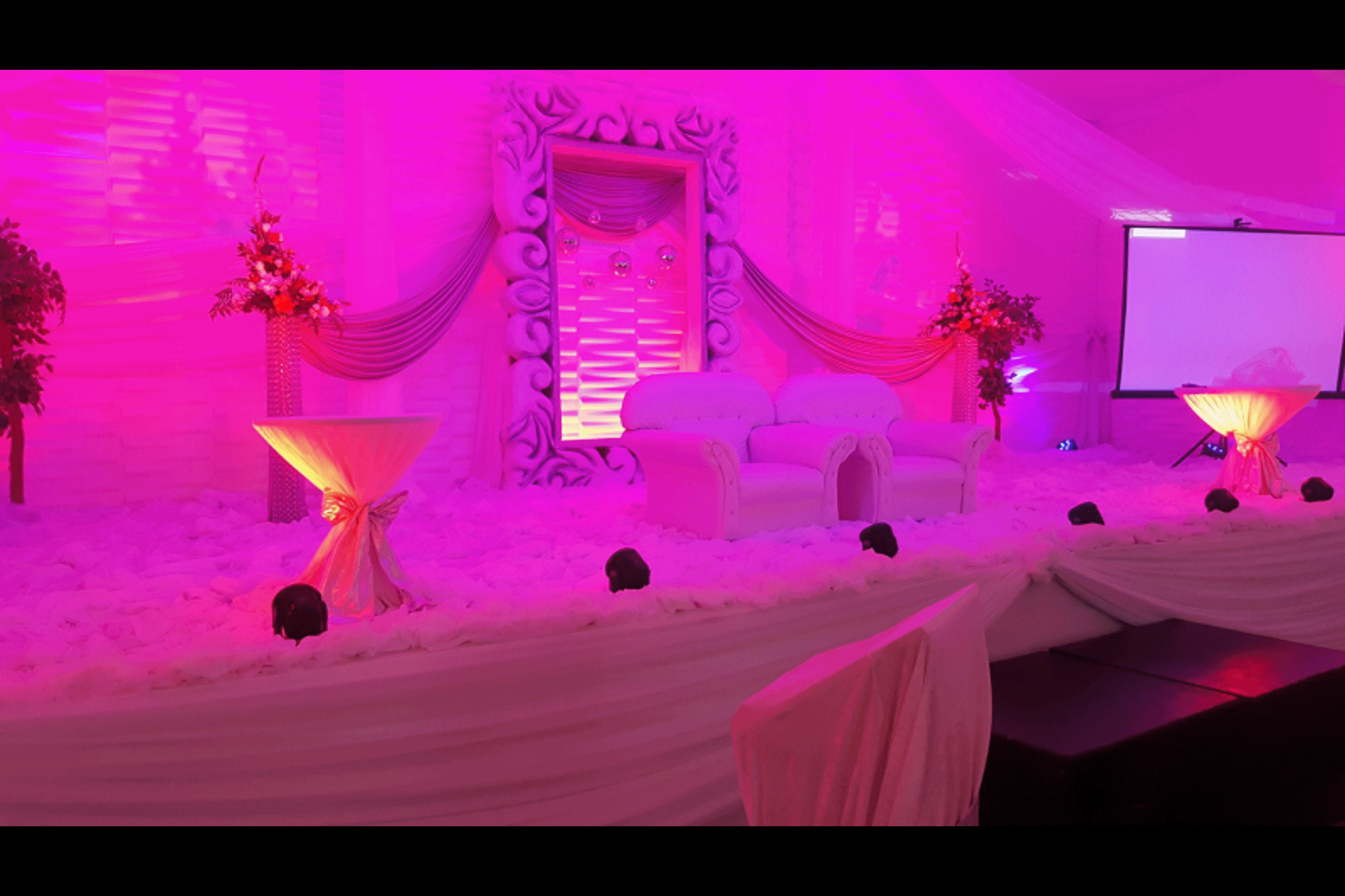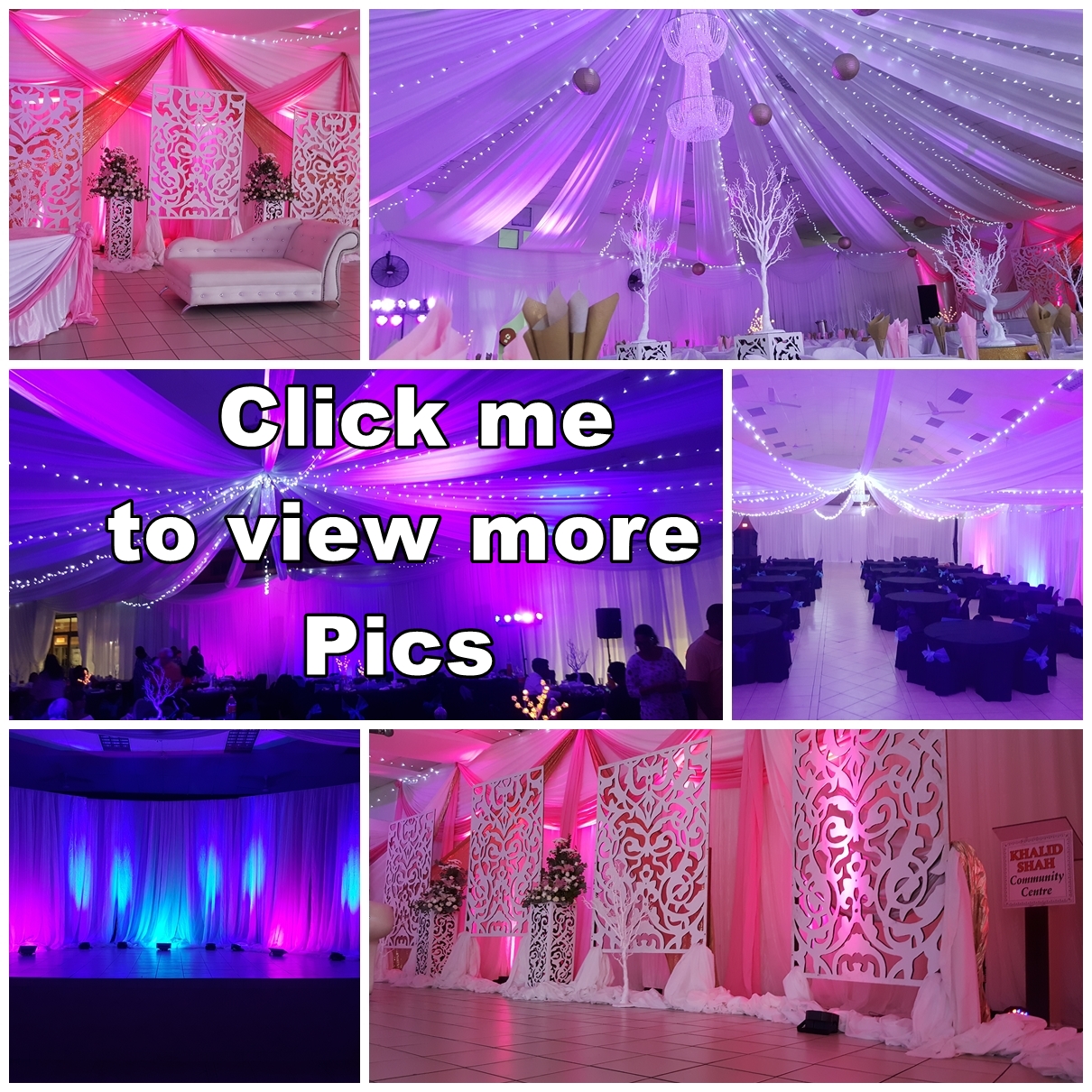 COLOUR WASH YOUR FUNCTION VENUE
COLOUR WASH THE VENUE STAGE
COLOUR WASH THE HALL AND WALLS AND CEILING
PACKAGES NOW AVAILABLE AT GRAVITY SOUND & LIGHTING WAREHOUSE DURBAN
STAGE AND HALL VENUE COLOUR WASHING CREATE THE COLOUR EFFECT OF A COLOUR WASH EFFECT AT YOU NEXT FUNCTION VENUE WITH DISCO GRAVITY AND GRAVITY SOUND & LIGHTING WAREHOUSE COLOUR WASHING LED LIGHTS COLOUR WASHING PAC CANS COLOUR WASHING FLOOD LIGHTS 0315072463 COLOUR WASHING 0837252146 FULL COLOUR EFFECTS LIGHTS 0315072463
DJ RAJEN DISCO GRAVITY - 21 YEARS EXPERIENCE- BOOK EARLY
DISCO GRAVITY dj Rajen -book early to avoid disappointment Sound lighting Dj Mc packages available -Wedding Eve Bhangra parties -Birthday partys -conferences -School Debs ball/prom -Promotional events -Christmas Parties -New years Eve parties DISCO GRAVITY-DJ RAJEN
DJ RAJEN THE JOURNEY 0837252146
Disco party lights, state of art lazers, moving head led colour wash lighting, smoke machine, bubble machine, snow machine, mega red & green lazers lights, led lights, par can colour wash lightings for stage/venue, stage platform hire, projector & screen hire.
setting da mood to your party with Dj Rajen. awsum sound & lighting to spice up any occassion. contact Dj Rajen 0837252146..durban..Mobile disco Dj for hire
Lazer lighting exibition done @fashionTv lounge Gateway umhlanga Sound & Dj with Dj Rajen as well on 2nd Dance floor
PARTY WITH DJ RAJEN & DJ MacDADDY @fashionTv lounge gateway. Lazer light & dj setup by GRAVITY
DJ RAJEN @FASHION TV LOUNGE GATEWAY
Bhangra Party @fashionTV lounge with Dj RAjen
club dj party with dj rajen (gravity) & dj mac daddy(ftv)
party on with Dj Rajen(Gravity) & Dj macdaddy (Ftv)..winter party
PARTY WITH DJ RAJEN ...FTV UMHLANGA FASHION LOUNGE CLUB. 6 AUGUST 2011
CLUB LAVIDA WITH DJ RAJEN 20 AUGUST 2011....CLUBBING EXPERIENCE IN DURBAN
DJ FOR HIRE..DJ RAJEN..DURBAN DISCO GRAVITY. ELECTRIFYING BHANGRA PARTY WITH DJ RAJEN
DJ @work...private party, corporate event gigs..dj Rajen disco Gravity
bhangra party at Club Rivets 23 december 2011...with Dj Rajen...party at the HILTON
CLUB RIVETS BHANGRA PARTY DECEMBER 2011..WITH DJ RAJEN
Wer the partys at with Dj Rajen...@hilton..club Rivets
Bellagio night club party with Dj Rajen and the boys...20 january 2012..come party with the elite at Durban no.1 party zone..BELLAGIO durban
Bhangra party Dj Rajen Club Rivets hilton tis friday 27 april 2012
dj Rajen Bhangra party at hilton Rivets lounge tis friday 27 April 2012..party weekend baby
Swimming Gala event-2013 mtedcombe Private school FUNDAY WITH Dj Rajen & GRAVITY MASCOTS...PARTY TIME GRAVITY MASCOTS now available for hire complete with Dj packages