ALPINE BLUETOOTH USB|AUX MEDIA PLAYER
---
{{item.currency}}
{{pricing}}
---
---
{{item.currency}}
{{pricing}}
{{item.currency}} {{item.normalPrice}}
---
{{item.currency}} {{pricing}} - Out of Stock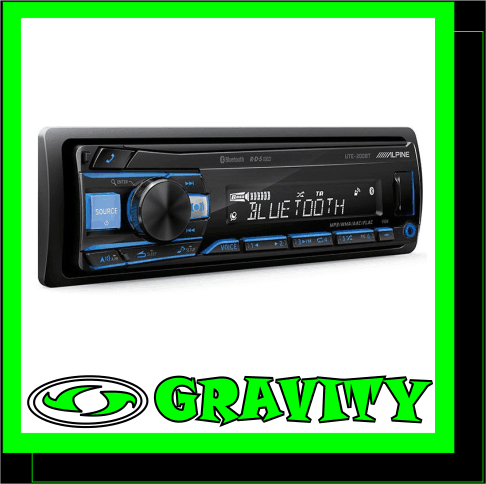 Alpine UTE-200BT 1din Media Receiver BT
Description
The UTE-200BT is an affordable single-DIN solution that steps up your sound to Alpine quality and offers many connectivity features to keep you entertained on the road.
Connect your iPhone or iPod to enjoy all your stored audio content and Apple Music, stream Spotify or internet radio via Bluetooth audio technology, or simply connect a USB stick - there are many connectivity solutions possible with this Alpine head unit.
The included microphone allows clear phone conversations with the built-in Bluetooth hands-free function. You can even adjust the button and display illumination colour separately in the full RGB spectrum, to match your preference and dashboard. Wireless remote controls are available as accessory.
Specifications:
- Built-in amplifier: 4 x 50 Watts
- 2 PreOuts (2 Volts)
- Max Power Output: 4 x 50W
- FM Tuner: Tuning Range: 87.5 - 108.0 MHz
- MW Tuner: Tuning Range: 531 - 1,602 kHz
- LW Tuner: Tuning Range: 153 - 279 kHz
USB:
- USB Requirements: USB 1.1/2.0
- Max. Power Consumption: 1,000 mA
- File System: FAT 16/32
Sound Tuning:
- Subwoofer Level Adjustment: 0 to 15 dB
- Subwoofer Phase Setting: 0 degrees or 180 degrees
- High Pass Filter: Off, 80/100/120 Hz
- Low Pass Filter: Off, 80/100/120 Hz
- Bass Level Control Range: +/-7 dB at 100Hz
- Bass Center Frequency: 60/80/100/120 Hz
- Bass Band Width Adjustment (Q): 4 choices (0.5=wide, 1.0=medium, 1.5=medium, 2=narrow)
- Treble Level Control Range: +/-7 dB at 10 kHz
- Treble Center Frequency: 7.5k/10k/12.5k/15k Hz
- Treble Band Width Adjustment (Q): 2 choices (0.75=wide, 1.25=narrow)
- Mid Level Control Range: +/-7 dB
- Mid Center Frequency: 500/1k/1.5k/2.5k Hz
- Mid Band Width Adjustment (Q): 4 choices (0.75=wide, 1.0=medium, 1.25=medium, 1.5=narrow)
General:
- Power Requirement: 12V.DC
- Pre Output Voltage (Before Clipping): 2V / 10k ohms
- Aux In: 1.4V / 10k ohms
- Maximum Mounting Angle: 30 degrees
- Weight: 0.8 kg
Dimensions:
- Din Size: 1 DIN
- Chassis Size (W x H x D) mm: 178 x 50 x 177 mm
What's in the box
1 x Radio
1 x Universal Trim
1 x Packet of Wires