MARINE KICKER KMC2 Media Center
---
{{item.currency}}
{{pricing}}
---
---
{{item.currency}}
{{pricing}}
{{item.currency}} {{item.normalPrice}}
---
{{item.currency}} {{pricing}} - Out of Stock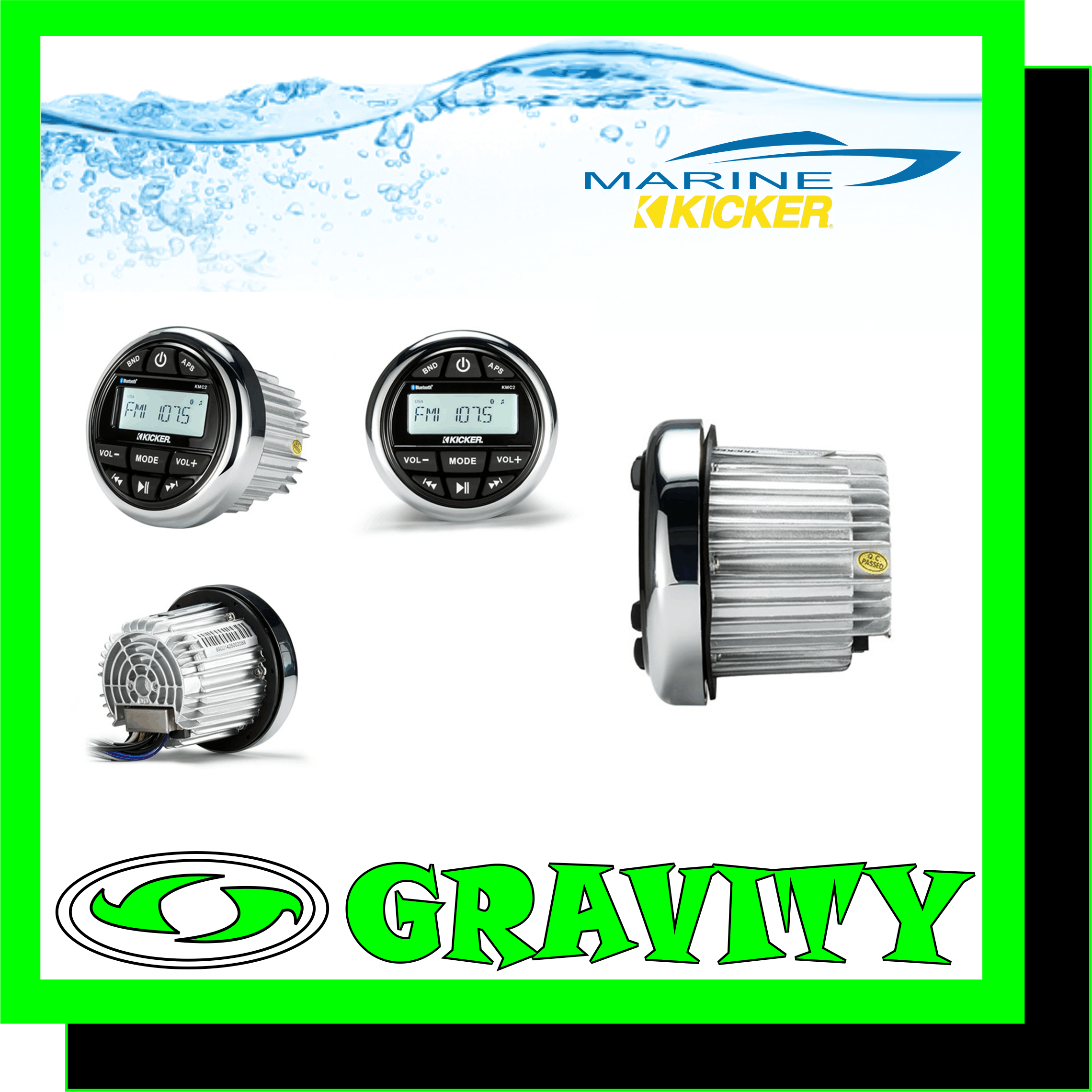 KICKER KMC2 Media Center
This marine digital media receiver will not play CDs.
Product highlights:
AM/FM marine digital media receiver (does not play CDs)
built-in amp (25 watts x 4 RMS/50 peak x 4 channels)
built-in Bluetooth® for music streaming
IPX6-rated watertight face
big, easy-to-use buttons
backlit LCD display
inputs: rear USB input, rear aux input
outputs: 4-channel preamp outputs
Ideal for ATVs, boats, golf carts, and more
This receiver fits into a standard gauge opening, so it's a great pick when you want a lot of sound, but don't have a lot of space to work with. It's tough, versatile, and IPX6 weather-resistant, so go ahead and jump that wave or splash through that mudhole – your receiver is built take it.
All sorts of entertainment options
You can use the built-in Bluetooth® to stream music from your smartphone or other Bluetooth-enabled device. If you want to enjoy your own weekend playlist, you can plug a music player into the rear aux input or pop a thumb drive into the rear USB port.
You can also tune into your favorite local radio stations using the AM/FM tuner. And if you're planning to add an amp to your system, you'll appreciate the two sets of rear-mounted preamp outputs.
Made for the great outdoors
The big, clearly marked buttons are easy to see and easy to operate, especially when you're wearing gloves. The big LED display gives you the info you need, while the watertight, UV-resistant face and durable controls will stand up to the rigors of marine and outdoor use.
Powerful and practical
Kicker's compact KMC2 digital media receiver packs a lot of performance into an easy-to-install package. If you're tired of settling for sub-par sound in your small boat or powersports vehicle, this gauge-mount receiver is a great solution.
KICKER KMC2 Media Center Weather-Resistant Multi-Media Gauge-Style Receiver w/Bluetooth.
The KMC2 Media Center is a simple, effective solution when you want great tunes in a compact footprint.
Equipped with an easily readable screen, over 200 watts of peak power and several audio inputs (including USB and Bluetooth), this durable Media Center is ready for some fun on the water.