MARINE AUDIO KICKER 6.5'' KM65002' Tower Component System
---
{{item.currency}}
{{pricing}}
---
---
{{item.currency}}
{{pricing}}
{{item.currency}} {{item.normalPrice}}
---
{{item.currency}} {{pricing}} - Out of Stock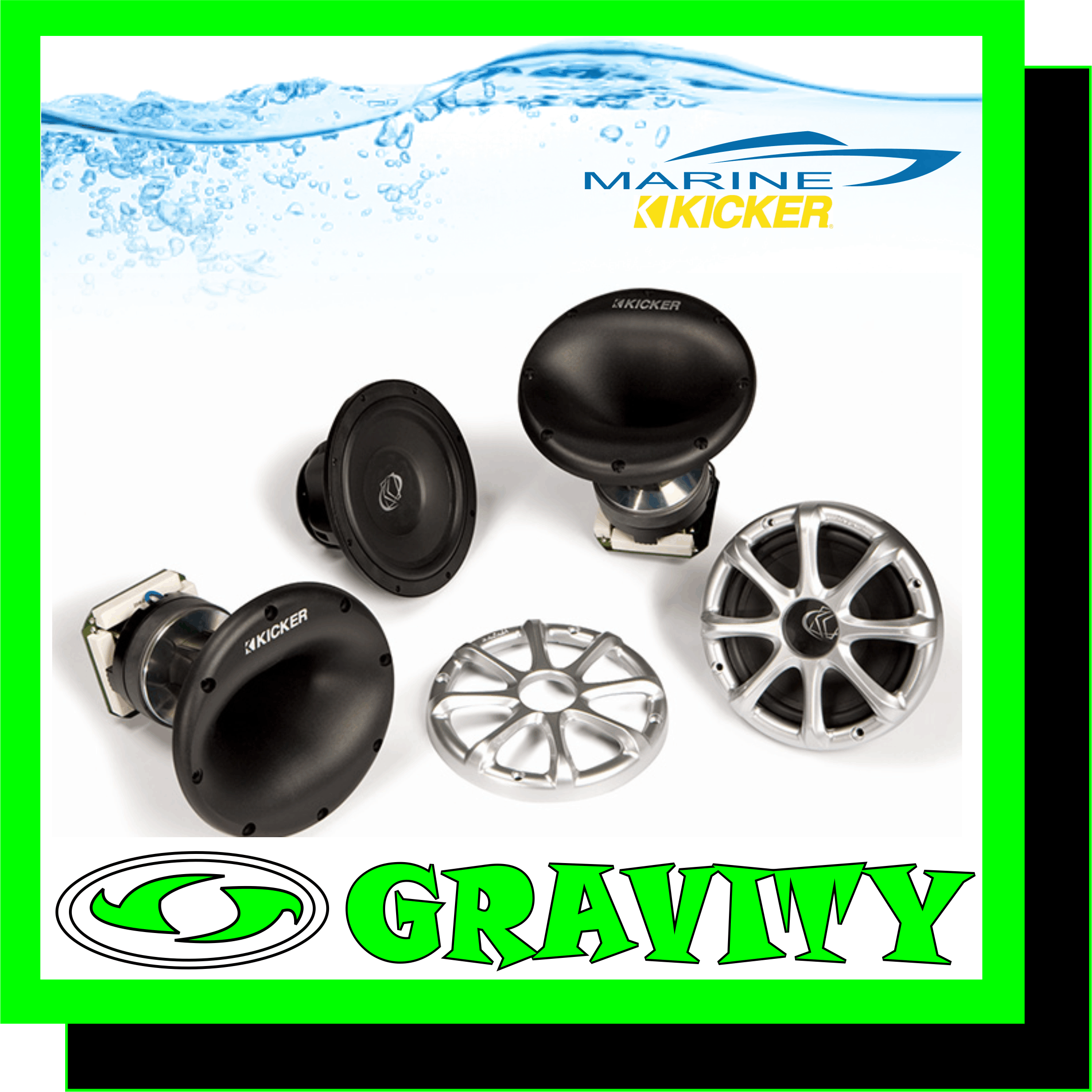 KICKER KM65002 Marine Tower Component System
Product highlights:
marine tower component speaker system includes two 6.5'' woofers and two 2'' compression horn drivers
injection-molded poly woofers with Santoprene rubber surrounds
2'' titanium diaphragm horn drivers
2-way crossovers attached to the horn drivers
water-resistant, bolt-through grilles
UV-treated cones, surrounds, baskets, and grilles
suitable for free-air applications (no enclosures needed)
power handling: 200 watts RMS (400 watts peak power)
frequency response: 50-22,000 Hz
sensitivity: 94.5 dB
top-mount depth: woofer 3-7/8'', horns 7-3/16''
Add Kicker's KM6500.2 HLCD marine tower component system and enjoy high-powered sound that'll cut through the noise of revving engines, wind, and wake. This potent nautical audio combination combines a set of beefy 6-1/2'' midrange drivers with a set of 2'' compression horns for a broadside of sound that'll keep your wakesport enthusiasts and passengers happy for the whole voyage.
Midrange speakers plus 2'' compression horns
The 6-1/2'' high-efficiency midrange speakers feature lightweight neodymium magnets and heat-shedding cast-aluminum baskets, so they'll kick out the crucial mids and lows of your music with authority.
The 2?, horn-loaded compression drivers aggressively push out the highs out to whomever you're towing in your wake. The titanium diaphragms and elliptical shape of the horn ensure strong, wide coverage. The system's crossovers are integrated into the base of the drivers for an easier installation.
Easy installation
Both the 6-1/2? midrange speakers and the compression horns fit in standard 6-1/2? speaker cans, making it easy to add them onto a wakeboard tower or other convenient locations. For an awesome 6-speaker setup, pair the 6500.2 system up with an extra pair of KM6500 midrange speakers.
Ready to take it
KM6500.2 system will stay shipshape in the marine environment. The cones, Santoprene® rubber surrounds, baskets, and grilles of the mids are UV-treated to protect the speakers from sun damage, while the splash-resistant sealed inner works shrug off damage from stray waves, rain, and spray. Stainless steel hardware guards against corrosion.