MARINE AUDIO Kicker 44KXM8008 8×100-Watt 8-Channel
---
{{item.currency}}
{{pricing}}
---
---
{{item.currency}}
{{pricing}}
{{item.currency}} {{item.normalPrice}}
---
{{item.currency}} {{pricing}} - Out of Stock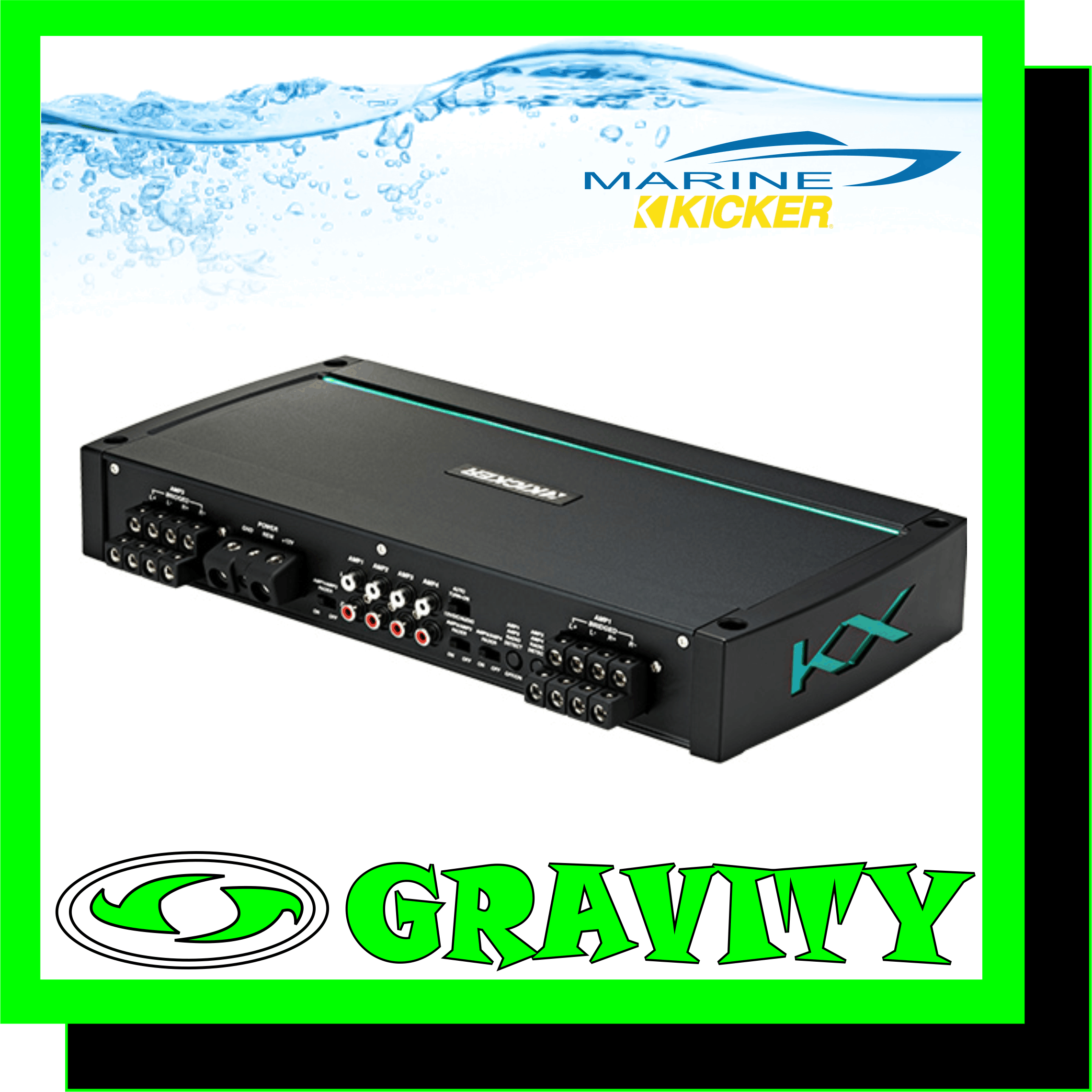 Kicker 44KXM8008 8×100-Watt Four-Channel Full-Range Class D Marine Amplifier
Product highlights:
8-channel marine amplifier
50 watts RMS x 8 at 4 ohms (100 watts RMS x 8 at 2 ohms)
200 watts RMS x 4 bridged at 4 ohms (4-ohm stable in bridged mode)
CEA-2006 compliant
Class D amp technology
gain knobs also function as clip lights
Amp 1 and Amp 2:
variable high- or low-pass filter (10-5000 Hz, 24 dB/octave)
Amp 3 and Amp 4:
variable high-pass filter (10-500 Hz, 24 dB/octave)
variable low-pass filter (40-5000 Hz, 24 dB/octave)
bandpass engages both high- and low-pass filters
variable bass boost (0-18 dB at 40 Hz) on all channels
MORE FEATURES:
weather-resistant conformal-coated circuit boards
front-mounted controls protected behind gasket-sealed fold-down door
Fail-Safe Integration Technology eliminates noise from your vehicle's electrical system
preamp and speaker-level inputs (speaker wire to RCA adapterrequired for speaker-level input)
wiring, hardware, and fuse not included with amplifier
4-gauge power and ground wires and a 120-amp fuse recommended
dimensions: 14-311/16''W x 2-1/4''H x 8-7/16''D
KICKER KXMA800.8 Amplifier KXM Amps were built for the outdoors. Power, speaker and input connections are gasket-sealed, as is the control cover hiding the settings, creating a water-resistant barrier to key components. The internal circuit board is sprayed with a moisture-deterring conformal coating for water and dirt resistance. The amplifier's power connections meet marine-industry standards for protection against the elements. Stainless-steel mounting hardware prevents rust stains on carpeting and gel coat, and the UV-treated chassis finish battles harsh sunlight. KICKER® takes proven technologies and advanced components to the water with KXM-Series Marine Amplifiers. Based on the critically acclaimed KX-Series Amplifier line for cars and trucks, weather-resistant KXM Amps utilize class-leading features specific for unbelievable sound in the boating environment, and within the most compact chassis for installing in tight locations.
Powerful, dependable, and good-looking
Kicker's KXMA800.8 marine 8-channel amplifier will bring brilliance and clarity to your sound, powering eight speakers with 50 watts RMS each. You can also use this amp in a 4-way system, with two channels powering tweeters, two channels powering midrange drivers, two powering mid-bass speakers, and two channels bridged together to power a subwoofer with up to 200 watts RMS. This versatile amp will always find a place in your boat's sound system, no matter how it evolves over the years.
Stays cool under pressure
This reliable and compact KXM Series rocker will run cool even when pushed hard, thanks to its high-mass heatsink, high-tech internal components, and efficient full-range Class-D amp technology.
Made for marine use
The KXMA800.8 features a conformal-coated circuit board for improved water and dust resistance, plus corrosion-resistant power connections, a gasket-sealed front cover, and stainless steel mounting hardware that won't rust all over your boat's gel coat or carpeting.
Connection perfection
Kicker employs their Fail-Safe Integration Technology (FIT2™) to reject noise and stop any interference generated by your boat's electronics, so you'll enjoy your music clean and pure. Speaker-level inputs make it possible to hook this amp up to almost any stereo receiver or radio. Kicker also helps you set this amp's gain properly, by offering free test tones for downloading. You play a tone and turn the gain up until the gain knob glows red. Then, you turn it down until it just goes out, and the amp's gain is set perfectly.
Versatile controls behind the folding door
A gasket-sealed front door gives you quick and easy access to your amp's controls. You can tune for almost any kind of speaker, as the steeply-sloped high- and low-pass filters offer a wide range of adjustment. The filter sections for the Amp 3 and Amp 4 channels can be set up for bandpass operation — where both the high- and low-pass filters are engaged to allow only the frequencies between them to play — for optimizing the signal for midrange speakers in a 3- or 4-way system.