Kicker 45KMA3004 4-Channel 75Watt x 4
---
{{item.currency}}
{{pricing}}
---
---
{{item.currency}}
{{pricing}}
{{item.currency}} {{item.normalPrice}}
---
{{item.currency}} {{pricing}} - Out of Stock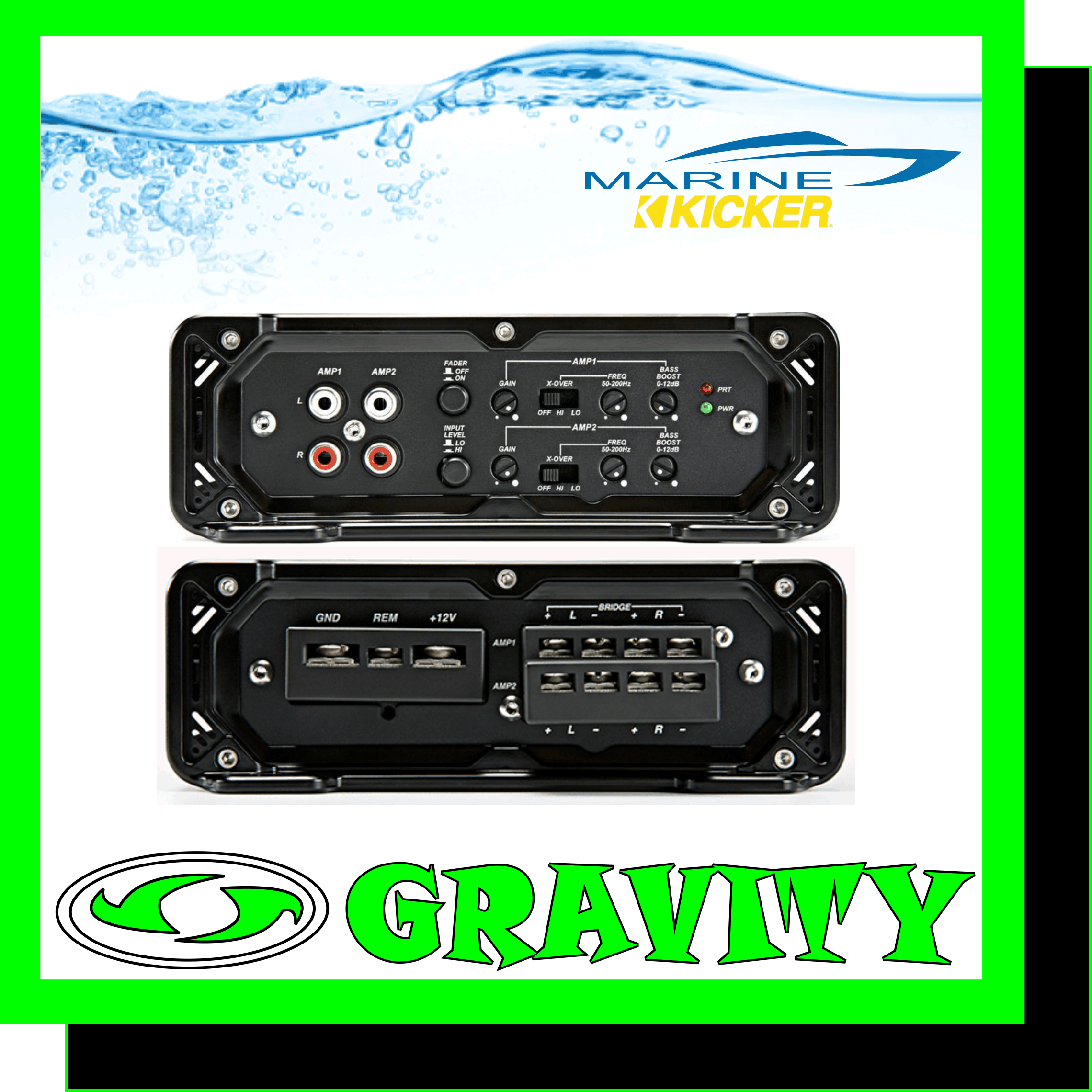 Kicker 45KMA3004 4-Channel 75Watt x 4 @ 2 Ohm Marine Class-D Amplifier
Product highlights:
4-channel marine amplifier
40 watts RMS x 4 at 4 ohms (75 watts RMS x 4 at 2 ohms)
150 watts RMS x 2 bridged at 4 ohms (4-ohm stable when bridged)
CTA-2006 compliant
Class D amp technology
variable high- and low-pass filters (50-200 Hz, 12 dB/octave)
variable bass boost (0-12 dB at 40 Hz) on all channels
OTHER FEATURES:
conformal-coated circuit board helps prevent corrosion
marine-grade speaker terminals and ABYC/NMMA-compliant power connections
fader switch eliminates need for Y-cords for input signals
preamp and speaker-level inputs (speaker wire to RCA adaptersrequired for speaker-level input)
wiring, fuse, and hardware not included with amplifier
4-gauge power and ground leads and a 60-amp fuse recommended
dimensions: 12-3/8?W x 2-5/16?H x 6-3/4?D
Specifications:
KMA300.4 4-Channel 75Watt x 4 @ 2 Ohm Marine Class-D Amplifier:
POWER [watts/ch], 2 OHM STEREO: 75 x 4
POWER [watts/ch], 4 OHM BRIDGED MONO: 150 x 2
Class-D Power Supply
Four-Channel Amplifier With Bridging Capability
Conformal-Coated Circuit Board
Variable 12dB Crossover
KickEQ™ Variable 12dB Bass Boost
ABYC/NMMA-Compliant Power Connections
316L Stainless-Steel Hardware Included
What's in the Box:
1 – power amplifier
1 – user manual, mounting hardware
Enjoy your music while you're cruising
A little power goes a long way in making your day out on the water more fun. Kicker's KMA300.4 marine amplifier can power four speakers with 40 watts RMS each, so you'll hear your music clearly over the sounds of the wind and waves, in up to 2 zones on your boat. You could also use this amp to power a system consisting of two speakers and a subwoofer. If you're just interested in power, this amp can go into bridged, 2-channel mode and put out up to 150 watts RMS per channel, for a couple high-performance tower speakers, for example.
Tone controls for the best sound
High-pass crossover filters guard against low-frequency distortion in your speakers. A low-pass filter and a bass boost on each channel help sculpt the tone when you're powering subs.
Shrugs off salt and water
Kicker knows how rough things can get at sea — they built this amp weather-tough, with marine-grade speaker terminals, stainless-steel screws, conformal circuit boards, and ABYC/NMMA-compliant power connections. That last one is a certification from the National Marine Manufacturers Association (NMMA), so you know that these connectors are well-made and will work well for a long time, even in rough seas.
KMA300.4 4-Channel 75Watt x 4 @ 2 Ohm Marine Class-D Amplifier Big sound meets big value. Use this flexible four-channel KM marine amplifier to power your system with ease and pump up the sound like only KICKER can!