News
2012-07-19
CARING FOR YOUR GHD HAIR IRON-WARRANTY FOR YOUR HAIR IRON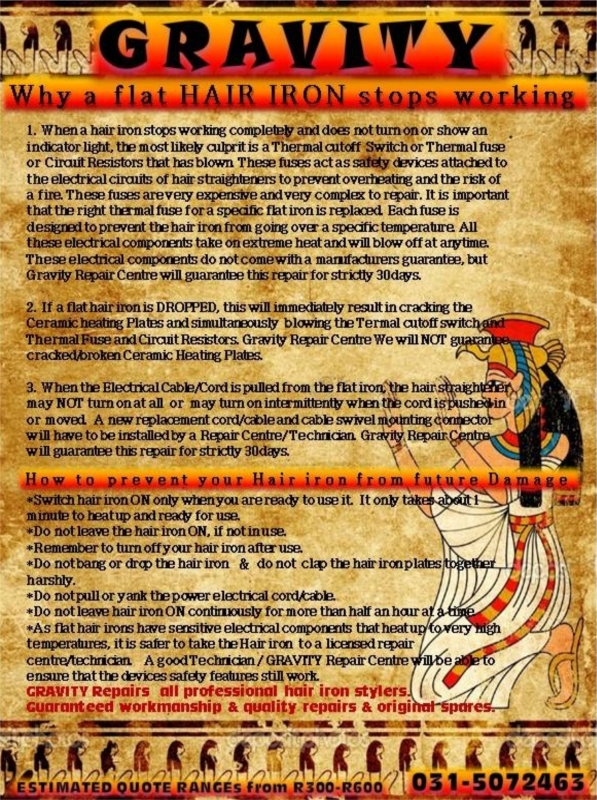 Your styler is a robust, state-of-the-art product!
Thermistor Repair
Iron stylers use an NTC (Negative Temperature Coefficient) Thermistor to regulate the temperature of the heaters. If for any reason the electronics does not get a sensible reading from the thermistor, then you'll hear a continuous beep and they won't heat up.
Cause 1: Bad solder joint
I've seen one pair where the solution was to simply resolder the thermistor onto the PCB. Unfortunately some of the solder joints are not great!
Cause 2: Broken Thermistor
If the thermistor breaks (i.e. the resistance across it is infinite) then it needs to be replaced.
Cable / Flex Problems
Due to the hard life that a cable on a pair of hair straighteners tends to receive, they have a habit of breaking. In some cases they even go flash bang when they fail due to wires inside the cord touching each other and shorting out!
A good indication that the cable is failing is when the power light flashes when you move the cable. If this starts happening then I would recommend replacing the cable ASAP rather than waiting for it to fail catastrophically.
To fix this problem it is a matter of finding the break (using "scientific wobbling"!!) and shortening the cable to remove the break. Most of the time however the break is very close to or within the strain relief at the iron styler end of the cable. This means you'll need to fit a new cable.
There are two different styles of connection into the hair straightener and you need to make sure you get the correct cable for your model.
Obviously the best way to work out which cable you need is to take the old one out and make sure the new one you plan to buy looks the same! This matter is made more complicated by fake iron stylers as often they use a different cable style to real iron styler, despite having the same model number (and often people don't realise they have fakes!).
Cherish it with the love and care it deserves and you will be rewarded with long, devoted service!
· Always switch your styler off and unplug it after use
· Do not allow the hot plates to touch textiles, plastic materials, or heat-sensitive surfaces
· Always ensure that the hot plates do not come into contact with the supply cord:
this could melt away the insulation and risk electrocution
· Never leave a hot styler unattended
· Always allow the plates to cool before storing
· When the styler has cooled, fold the supply cord in the same way as it was first delivered in its packaging
Do not wind it around your hand or the body of the styler and your styler will deliver the results every time
When the styler is not in use, always lay it on a flat heat-resistant surface
Never hang the styler by its cable

The ghd electrical hair styler. GHD is the registered trademark of Jemella. Full information on Jemella and the ghd brand can be found at www.ghdhair.com